The Group cares about its staff's personal growth and development and is committed to providing them with an ideal work environment. The Group also extends its care to the families of staff members through a series of family-friendly activities and measures.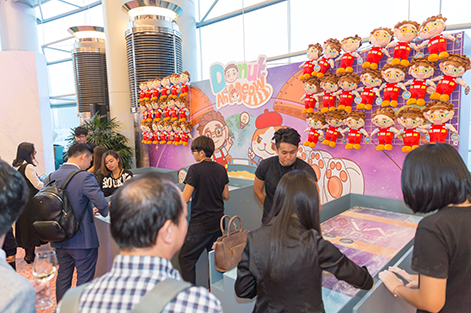 Enhancing Employees' Sense of Belonging
The Group believes its employees are its most valuable asset and strives to build an excellent team. Through innovation and sustainable development, the Group is committed to building a better society. It attributes its success to the unfailing dedication of its staff.
As a token of the Group's appreciation for the devotion and loyalty of long-serving staff, it presents Long Service Awards at the New World Group Annual Dinner to long-serving staff. The aim of this annual staff event is to enhance our staff's sense of belonging and harmony among the different business units, which will in turn help the Group reach new heights.
---
Promoting a Family-Friendly Culture
New World Group Family Carnival
In tandem with attaching great importance to the development of an excellent team, the Group encourages its staff to achieve a healthy balance between work and life. In the New World Group Family Carnival, numerous interesting programs, games, competitions and performances are arranged for all staff and their families to strengthen our staff's relationship with their families and enhance communication and collaboration among the staff of the various companies in the Group.
Family-friendly Measures
The motto "One Step Forward" underpins the development of the Group's family-care measures. As a Caring Company and a Distinguished Family-Friendly Employer, the Group is committed to providing its staff with an ideal work environment and comprehensive welfare. This caring spirit is also extended to employees' families. A series of innovative family-care measures are in place, including flexible working hours, family care leave, birthday leave, examination leave, an education subsidy, and the Inventing Your Future Education Sponsorship Scheme for our employees' children.
New World Sports Club
As part of the Staff Wellness Program, the New World Sports Club encourages staff to participate in sports activities, allowing them to experience the benefits of exercise. This also enables staff to attain work-life balance, trust and team spirit, represented by the T in UNITI.
---
Wellness Webinars
We are committed to supporting our employees in their efforts to improve their overall health and wellness, to enhance the quality of their work-life balance, to maintain the efficiency and effectiveness of their work, etc. by organizing a series of wellness talks for our employees. The topics include maintaining their personal well-being, making healthy food, and developing an exercise routine.